Products Catagories
Contact Information
Shanghai Zengxin Machine Electron Technology Co.,Ltd
Add: No.165 Hengfei Road, Jiading District, Shanghai China
Tel.: 0086-137 0588 0773
Fax: 0086-21-59586599
Email: info@valvestest.com
Skype: benqpan
Web: http://www.valvestest.com



Products
Seat Ring Lap Machine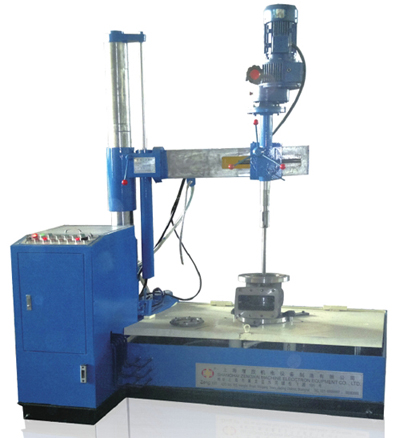 It is suitable to lap seating surface of seat ring on the valve body. When lapping, body is clamped on the
adjustable work table by hydraulic claws, lapping table make eccentric rotation around axis vertical to seating
surface of seat ring and the speed is steplessly controlled.
Performance and Feature:
1. It is suitable to lap seating surface for various valves.
2. It adopts claw hold flange to press mounting, work table mounting surface can adjust inclination angle
(0-6 degrees).
3. The speed of lapping table is steplessly controlled. A eccentric mechanism is used to make lapping table
eccentric rotation.
4. Seating surface roughness reaches Ra 0.8μm and tightness >=80%.
5. Up & down of arm, inclination of work table as well as loosening & tightening and the force are all
steplessly hydraulic driven.
6. It has timer to remind operater when over.
Main Technical Parameters: