Products Catagories
Contact Information
Shanghai Zengxin Machine Electron Technology Co.,Ltd
Add: No.165 Hengfei Road, Jiading District, Shanghai China
Tel.: 0086-137 0588 0773
Fax: 0086-21-59586599
Email: info@valvestest.com
Skype: benqpan
Web: http://www.valvestest.com



Products
H.P Safety Valve Test Bench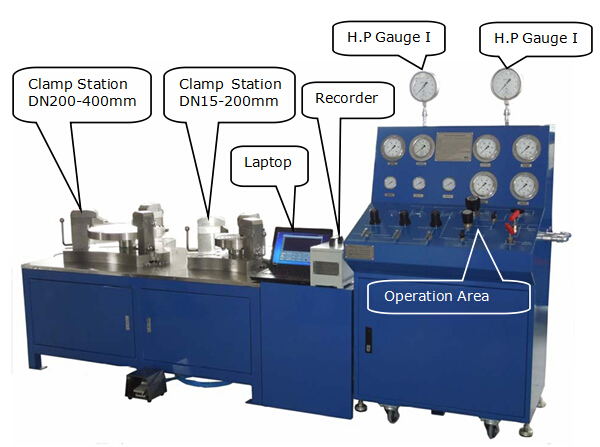 TPU Series Safety Valve Test Bench can test kinds of safety relief valve.
Test Range from DN1/2"-2" (Thread) & DN1/2"-24" (Flange) as request.
Test Pressure can up to 10000psi (680bar) for Water & Nitrogen as request.
Performance and Feature:
1. Automatic hydraulic clamping, big and adjustable clamping force, equipped with gauges displaying corresponding clamping forces, preclamping available, the clamping cabinet's wetted section components are stainless steel.
Compare with similar products of other brands:
- the same valve size, Telide products can test bigger set pressure;
- the same set pressure, Telide products can test bigger valve size;
- provide quicker and more accurate clamping force.
Compare with similar products of other brands: as the exclusive distributors of H.P. components from America and Europe for more than 10 years, we are able to provide our customers better technical support, price and service.
3. Test various relief valves such as full-open, micro-open, imperial, metric, flanged and threaded etc.
Compare with similar products of other brands: over 10 years of experience in design and producing Safety Relief Valve Test bench, Telide has obvious advantages at techniques, test accuracy, safety etc.
4. This equipment does not need electric power source and takes ordinary gas as the pressure source. The underneath of this equipment has the wheels and the struts in order to move conveniently and it could be fixed by struts.
5. TPU series test bench has a gas high pressure regulator at the gas high pressure outlet. It also has 1 set of seat leakage device, which allows testing set pressure and seat leakage for H.P. / M.P. / L.P. Safety Relief Valves.
Communication interface to PC available, AT-31 portable computer recorder optional.
6. The test bench is equipped with 4 pieces precise gauges, accuracy: 0.4%FS, thus it is convenient to test precisely high, medium and low pressure Safety Relief Valves.
7. The standard of this test bench:
- Performance testing standard of pressure releasing equipment: GB-T12242-2005;